I don't know about you guys but I'm a little sick of the constant promo. I'm in the middle of my blog tour, and I've written guest posts, tweeted links, had chats on Facebook, and I'm completely bored with me, me, me.
So I'm going to do the unthinkable and write about something that's not at all book-related.
I'm going to write about my dog.
It's entirely appropriate, today, on the day that celebrates the patron saint of the Irish. Sparky came from Ireland, where Irish Retriever Rescue found him in a shelter, neutered him, and put him on a boat for Anglesey, Wales. (There are far too many unwanted dogs in Ireland, due to unregulated breeding in puppy mills.) After arriving on the 5 a.m. ferry, a very scared Sparky was put in a transport van and taken to Bath, where he met his foster family at the IRR annual reunion.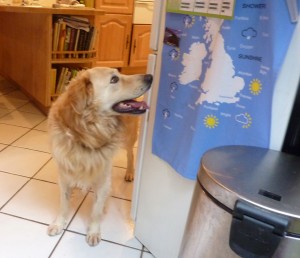 Uh oh. That turned out to be a big problem for Sparky, who, as everyone quickly learned, did not like dogs. Not one bit. And his foster family had three dogs, sweet golden retrievers who didn't appreciate being barked at by this upstart Irish lad.
I got The Call that night. I'd only signed up to foster a couple of weeks earlier and hadn't yet had a home visit, but this was an emergency. Sparky needed a home and needed one fast—he'd had to spend his first night in England in a car.
I was the only foster on the list who was suitable. My sweet Bailey girl had died suddenly from cancer a few months earlier, so I was dog-less, and quite bereft. I'm the kind of person who needs a dog in my life, yet knowing we could move overseas at any time, I thought getting a permanent dog wasn't a good idea.
So I immediately said "yes" and the next afternoon I drove to the Oxford services (like a rest area, with lots of restaurants, facilities, etc.) and picked up the most scraggly, smelly, matted, dirty dog I'd ever seen. He seemed huge, and although at first I thought he was a full golden retriever, it was soon clear that his eyes weren't chocolate brown, and underneath all that abundant coat, he had a very thin frame. Later I learned that he was a border collie/golden retriever cross, and when his coat (probably gained from sleeping in cold quarters) was finally brushed out, he was only around 50 pounds, the size of a collie.
It's a forty mile trip from Oxford, and he didn't utter a peep all the way home. I'm sure he was waiting for the other shoe to drop, being as he'd been without a permanent home for several months. He explored every inch of our garden, then indoors. He didn't know what to make of the stairs, so I assume he'd lived in a flat or bungalow. He was friendly enough, housetrained, and enjoyed our short walk. But he was definitely on high alert that day, and for the next couple of weeks.
Like a border collie, Sparky is high strung, intelligent, and anxious. Like a golden, his constant refrain is "I love you! I love you!" Unlike a golden, he's suspicious of new people, and very suspicious of other dogs and animals. He barks at the cows that live next door. He runs after horses, barking a warning to make sure they know to stay away. He chases squirrels and would probably chase cats.
He's not everyone's perfect dog.
But after we'd had him a few weeks, and then a few months, we were sure he was the perfect—and permanent—dog for us. I needed a project: I hadn't yet sold a book; I'd visited almost every castle in the surrounding area; and I was desperately lonely during my husband's travels. Sparky, though he can't accompany me everywhere the way Bailey did, is a great companion.
He still needs some work, despite our efforts at training and behavior modification. Though I'm absolutely thrilled with his progress so far: at this point, he rarely has any negative interactions with other dogs, and his recall is almost perfect. We can take him anywhere that's free of livestock and let him run off lead, his favorite activity. He sits, settles, and spins on command, a repertoire of tricks that eluded him when he first arrived.
Sparky is the one thing I'm most proud of. (Well, in addition to my books. But this is a promo-free blog post.) I learned more about dogs and their behavior because of Sparky than I'd ever needed to know with my other dogs.
St Patrick's Day, according to Wikipedia, commemorates the day St Patrick died and entered into heaven. I think Sparky found his heaven when he arrived here, in a loving home with a family that had time to spend with him, and a love of the outdoors.
Happy St Patrick's Day, from me and my upstart Irish lad.