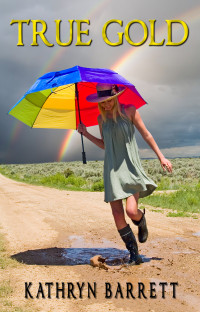 True Gold
Amazon.com
Amazon.co.uk
Nook
iBooks
Kobo
Simon and Schuster
Connor Forrest is a self-made billionaire only one generation removed from the emerald turf of his mother's Ireland. Jaded by the high risk, high tech investment world he inhabits, he has little time for introspection, poetry, or true love. A piece of perfectly thought out logic, on the other hand, makes him weak in the knees.
Rebecca Evans is a brilliant computer programmer disguised as a ditzy blonde. She's looking for love, but people are not as predictable as her favorite equations. A fall in San Francisco's Golden Gate Park sends her straight into Connor's arms, but getting into his heart is a much harder task.
Can Connor learn that true love, like gold futures, is worth a little risk?
 Redemption
Add to Goodreads.
Buy from Amazon.com
Buy from Amazon.co.uk
Buy from Nook
Buy from iBooks
Buy from Simon & Schuster
Recently appointed an executive of a Philadelphia department store, Claire Porter doesn't want a man in her life. She still bears scars from her past, including the Hollywood scandal that resulted in the birth of her son, but she's the last to admit she needs a hero.
Matt Grayson is perfectly cast for the role. As a kid, he staged rescue operations with GI Joe and Barbie. Now he plays a hero on the big screen, but when he encounters Claire, ten years after their disastrous affair, he realizes she's no longer the naive girl who fell into his arms. She not only forbids him to use her store as a location for the film he's directing, but also refuses to cooperate with the emotional rescue he plans.
As layers of secrets are exposed, Claire and Matt grow closer, and finally face their personal—and public—redemption.
Temptation
Winner of the Holt Medallion for Best Single Title Contemporary
Winner of the Golden Quill Best First Book
Second place in the Write Touch contest
from Entangled Publishing
Buy from Amazon
Buy from iTunes
Buy from Barnes and Noble
Buy from Kobo
Laura Hayes has been acting since she was an infant, making Hollywood the only home she has ever known. But when she moves to Pennsylvania's Amish country to film her next movie, she discovers there's more to life than a pair of Jimmy Choos and a Marie Claire cover.
Intrigued by the Amish simplicity, she's soon gardening and baking plum pies—and enjoying it. And when her neighbor turns out to be the local heartthrob and a talented furniture maker, she realizes that what's missing from her life might be the love of a good man—not to mention the perfect heirloom tomato.
Jacob fights the urge to question the teachings of his Amish beliefs—despite his desire to create furniture that is beautiful as well as useful—and struggles with his longing for the sexy stranger who makes him feel truly alive for the first time. As his attraction grows, so do his doubts, until he's forced to face temptation and decide once and for all what is truly worth the fight.
Excerpt
Chapter One
God regularly sent temptation to the town of Serenity, in the form of power tools, brightly colored sewing notions, and a new Super Wal-Mart. But when Hollywood arrived, some felt He'd upped the ante. Their loud SUVs, loose wads of cash, and flashy Englisher ways made the tourists who regularly flocked to Amish country seem reserved in comparison.
Of course, there were some who'd cashed in on the invasion, including old Levi Yoder, who offered his preserves at twice the price he'd charged before. But after Deacon Malachi preached against price gouging, the rest hung their heads in shame for even thinking of tacking on a Hollywood surcharge.
Though few of the Amish had ever seen a movie, and even fewer read celebrity gossip columns, the aura of Hollywood still sparkled like forbidden stardust. Yet one woman had no trouble seeing through the stardust to the illusion underneath.
The first time Rachel Hostetler had seen Laura Hayes stepping out of a red Jeep and into her neat and tidy yard, she'd known she was trouble. An English Delilah, wearing tight jeans, high-heeled boots, and a chic attitude. Rachel frowned over the shirts she was hanging on the line, but she was no match for such undaunted optimism.
With the air of one who'd never let a critic's opinion stop her, the woman ignored the frown on Rachel's lined face and instead gave her a friendly wave, and one of those generous smiles the English give to strangers.
"Hi! Can you tell me where I could find Jacob Hostetler?" she asked, pulling sunglasses from a face that radiated cheerful perfection.
Rachel snapped a clothespin. "He'll be in the workshop this time of day." Then she found herself pointing out the way to Jacob's workshop, and even hoping this Englisher would place a large order. They could use a new wringer washer.
Later she'd regret so freely giving up her son's whereabouts, but on this day, weeks before filming began on The Temptation of Hannah, Rachel had simply conspired with God's plans.
Read more here.