I got this email yesterday: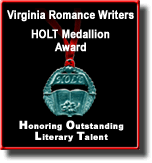 It's my pleasure to inform you that your novel, TEMPTATION, has been selected by our reader judges as the winner of the HOLT Medallion Award for Best Mainstream/Single Title. Congratulations! Also, TEMPTATION has been selected as an Award of Merit recipient in the Best First Book category. Double congratulations! 
After pinching myself, reading it again, and then three more times, and then calling my husband in to read it just to make sure, I finally believed it, especially after seeing the proof on the internet. I honestly didn't even know Temptation was up for the Holt Medallion. So color me surprised, honored, and thrilled.
Then last night I got an email from WisRWA, telling me that Temptation had placed second in the Write Touch contest. Again, I'm honored, thrilled and pretty amazed at the success of this book, which didn't make an especially big splash when it was released. But it's a slow book. It takes a while to unfold, and I guess it's taken a while to find its niche too.
Now I'm starting a seven day writing sprint, with a huge boost of confidence. And a huge smile on my face!