I've been given the Sunshine Award by Eve Devon!
The Sunshine Award is given to bloggers who "positively and creatively inspire others in the Blogosphere". 
How lovely!
Now I have to answer the questions and tag other bloggers, I mean, award them the Sunshine Award. Here are the rules:
Here are the Sunshine Award rules:
1) Thank the person who presented you with the award and link them in your blog post.
2) Do the Q and A that comes with the award (see below).
3) Present the award to 10-12 other bloggers and link them to your blog.
Here goes…
1. Thank you, Eve Devon! I can't say as I've ever received an award before. Not since grade school anyway.
2. Q&A:
Favourite colour: (notice the British spelling!)
Hmm. I think it has to be yellow. I once decorated my whole house in yellow, when we'd moved to a dreary base house and I wasn't very happy about it. I bought yellow floral fabric and made curtains (I used a needle and thread, since I'm scared of sewing machines). I painted my office yellow once. I think yellow cheers you up, and in this dreary climate, I need all the cheering up I can get.
Favourite animal:
No surprise here, my favourite animals are dogs. I'd rather be with a dog than any other animal, including, probably, most humans. They're non-judgmental and, well, they bring sunshine, don't they? I used to bring my last dog, a golden retriever who adored everyone she met, to my mom's nursing home for unofficial pet therapy. Some of the people living there hadn't seen a dog in a decade or more. I hope that wherever I end up when I'm old, someone brings a dog to visit.
Favourite number:
Lucky number 13! I was born on Friday 13th, so I consider it lucky.
Favourite non-alcoholic drink:
This is going to sound like I'm a lush, but there's only one non-alcoholic drink I drink, and that's green tea. I don't drink juice or soda, so that pretty much leaves water and tea. Despite the fact I live in the land of tea drinkers, I can't find my favourite brand of tea here, Lipton Green Tea with Mandarin Orange flavour. But I can get it in France, so I try to go a few times a year and bring back wine (my favourite alcoholic drink) and tea.
Facebook or Twitter:
Twitter. I love the hit-and-run aspect of Twitter. I worry about clogging up my Facebook feed, so I don't post every comment that comes to mind, but on Twitter I'm much more verbose, despite the 140 character limit. Plus I really like the type of people that congregate on Twitter. We're a fun, happy bunch!
My passion:
I don't know if I can limit it to one! I love being with my dog, walking in the woods. I love going to historical sites, poking around ruins. I'm not much of a shopper at all, but I love antiques. All three of those passions are easy to do here in England, so I'm pretty happy. Maybe that's why I haven't felt the need to decorate my house in yellow! Hmmm….
Getting or receiving presents:
Oh, this is hard! I like them both, and since my birthday is two days away, I better say "getting" hadn't I? But I really like giving them too, especially when you know something you've found is just the perfect thing.
Favourite pattern:
I'm going to echo Eve here and say "snowflake" patterns are my favourite. I really have a thing for snowflakes. My Christmas tree is full of them, and around the holidays I decorate with all the various snowflake things I've gathered over the years. And sometimes I forget to take them down…
Favourite day of the week:
Oh, this will be controversial, I know, but my favourite day of the week really is Monday. It's the day I return to routine, when the house is all mine again and I can spend all morning writing a blog post or baking cookies or writing a new scene from my WIP or I can ditch all that and take my dog for a long walk, knowing there's plenty of time later in the week for me to get the work done. Friday is bad, because it means I look back at the week and wonder, where did the time go? Why haven't I got more to show for it?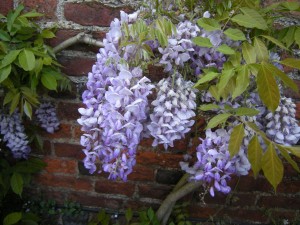 Favourite flower:
I really love blue and purple flowers, so my favourites are lavender, bluebells, and wisteria. I think I love wisteria the best, though. I really love seeing it drape over an old stone cottage, or a whitewashed brick house.
3. And now to nominate…
Stephanie Monahan, my fellow Entangled Edge author, whose book 33 Valentines begins with a broken arm and ends up with a HEA.
Aubrie Dionne, whose book Playing the Maestro was one of my favourite recent reads.
Samantha Ann King, who is a real life friend from a land where there's plenty of sunshine.
I'm going to nominate Tracey Livesay again, because I think we'd be great friends if we met in real life.
Inara Scott, because she seems to do a lot of good for the world, include writing excellent books for adults and teens.
Stella at Ex-Libris, because she adds sunshine to my world when I chat with her on Twitter!
Michelle Smart, because she's also a person who I think would be a great friend in real life.
Gabi Stevens, who writes funny historical and contemporary romance and also lives in a sunny land so she knows Sunshine.
Rachel Lyndhurst, because she's a fellow Entangled author and she likes antiquing too. I want her to tell me where her favourite antiques spot is!
Not quite 10, but that's because I wanted to save room to nominate YOU! That's right, you're nominated! Chime in and let me know who you are!